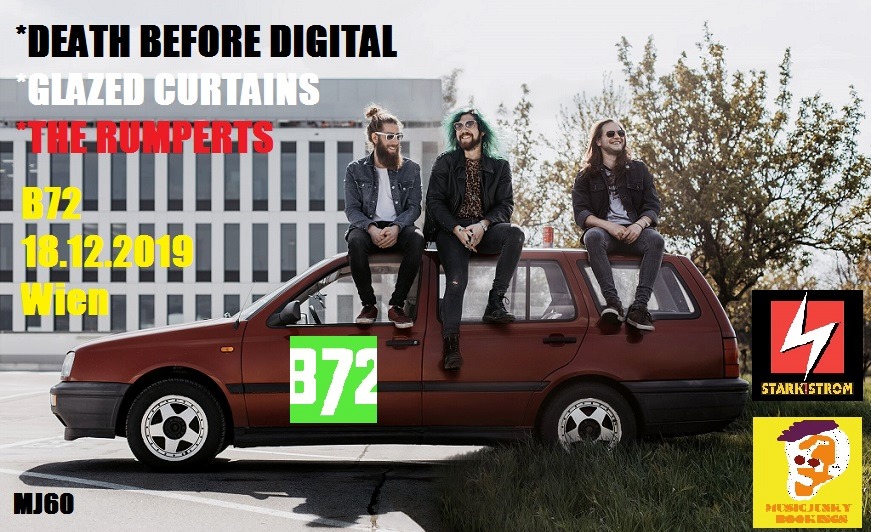 DEATH BEFORE DIGITAL (Österreich)
https://www.facebook.com/DeathBeforeDigitalia/

GENRE:
SURF PUNK 'N' POP deluxe

MITGLIEDER DER BAND:
LENZ
WU
RICK

Heimatstadt:
Eisenstadt

Pure Leichtigkeit und mittelschwere Depression gekonnt zu vereinen ist nur eine der einzigartigen Eigenschaften der wildromantischsten Surf Punk´n´ Pop Deluxe Band.
Denn wer hatte ihn nicht? Diesen einen Sommer, die besten Tage, an die man – nicht nur an kalten Tagen – wehmütig zurückdenkt?
Dies wird auf ihrer neuen Platte zu hören sein.
Lasst euch Live von ihrer selbstironischen Authentizität mitreißen.
bailamba
GLAZED CURTAINS (Österreich)
https://www.facebook.com/glazedcurtains/

GENRE:
Rock

Mitglieder der Band:
Vocals, Guitar: Constantin Kary
Guitar: Jay Mathes
Drums: Maximilian Sulz
Bass: Matei Balasoiu

Heimatstadt:
Wien

The good old Rock´nRoll that the older generation likes to rave about, is coming back on stage with Glazed Curtains. With influences from the 60s to the 90s the newcomer band is keeping Rock alive.
From heavy riffs to melodious ballads there are sounds for all tastes. Let yourself be thrown back into times where guitars squeak, voices break and drummers can let out their aggressions. This is music for all the ups and downs in life. A tribute to Rock. Welcome to Glazed Curtains!

-----------------------------------------------

THE RUMPERTS (Österreich)
https://www.facebook.com/glazedcurtains/

GENRE:
Punk Rock

Heimatstadt:
Wien

Rise of the Phoenix – Straight forward Punkrock aus den Aschen der Rumble Roses mit 3 Conchitas und einer Wurst.
Die Ex-Mitglieder der Wiener Girlband spielen weiter – mit dem Sänger Patage der ihrem Sound mit seiner Reibeisenstimme neuen Ausdruck verleiht. Old School trifft New School gemischt mit einer Portion Chaos.
Lovers and Haters welcome. Bringt Obst mit.