SURGE starting 2020 at B72 // with BSG, Majestätsbedarf und Fat Fox danach Flashback 90s Party
18.01.2020

19:00 / AK:10€, VVK:7€

/

Tickets

/

Event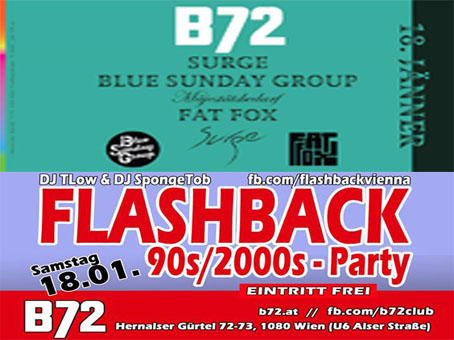 Surge will 2020 groß anfangen lassen. Sie haben sich anlässlich ihres ersten Gigs in diesem Jahr und der 6-monatigen Zwangspause ihres Bassisten, der ein halbes Jahr auf Studium-Auslandssemester sein darf, drei weitere, nicht minderbegabte Bands, zu einem spaßigen, rockigen und lauten Abend eingeladen.
Surge darf deshalb am 18.1 im B72 alle Rock- und Bluesfans einladen zu:


Majestätsbedarf:

Die Rockband Majestätsbedarf bringt mit ihrem kaiserlichen Stil eine neue Art der Inszenierung auf die Bühne. Sie startet mit diesem Auftritt ihre Innenstadttournee durch Wien.


Fat Fox:

Formed in the summer of 2015, Fat Fox is a group of 5 friends which shared the same amount of love for loud live music. Inspired by the psychedelic blues of Jimi Hendrix and the grooves of 70s funk music the band managed to create its own sound, varying from soft, dreamy chords to electrifyng guitar riffs and heavy basslines


Blue Sunday Group:

Mit allem was Blues, Rock'n'Roll und Hardrock zu bieten haben lässt die Blue Sunday Group kein Auge trocken und kein Tanzbein still stehen.

We're young, we're loud and we're hungry for the crowd!


Surge:

Vier Jungs aus Wien, die alle die Liebe zu Rock n' Roll, Blues und Alternative Rock teilen. Durch ihre Musik bringen sie regelmäßig die Venues und die Herzen ihrer Fans zum Beben.
Eins steht fest: Die Auftritte von Surge vergisst man nicht so bald!