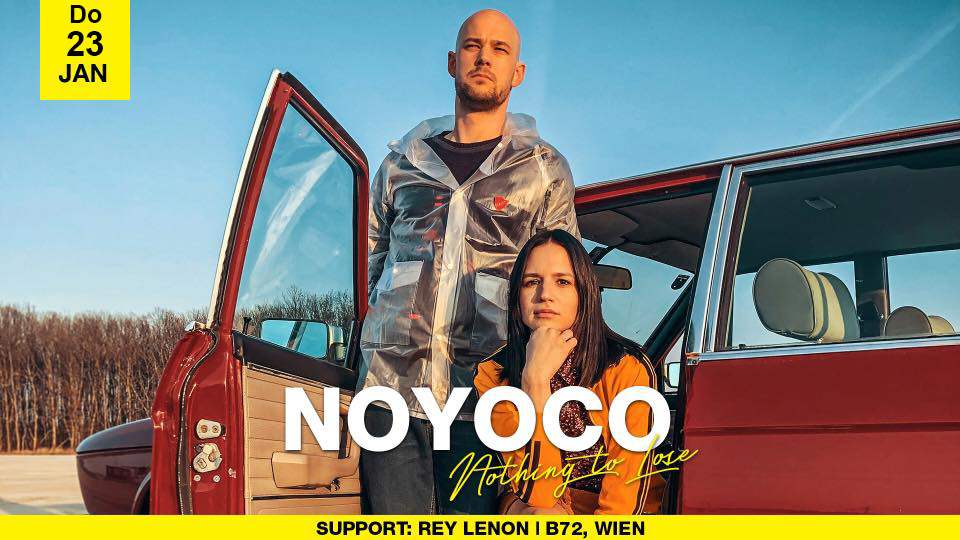 Zum Ursprung der 80er und wieder zurück in die Zukunft. Indie Pop mit einer Portion Zukunft. Das ist Noyoco. Nach drei Single Veröffentlichungen in 2019 setzt das Salzburger Duo mit ihrem Debüt-Album Nothing to Lose [VÖ 11.10.19] ein erstes großes Ausrufezeichen in der österreichischen Musiklandschaft.
Fast forward to upcoming times. Singer Songwriter trifft auf analoge Sounds. Das wird bei den markanten Synthesizern und Schlagzeugsounds hörbar. Im Kontrast dazu eine schwebende Stimme mit Tiefgang. Die Grenzen gängiger Genres wie Mainstream oder Indie werden gesprengt. Herauskommt ein internationaler Sound mit eingängigen Melodien.

"Von Fremden zu Favorites kann es lange dauern, manchmal reicht aber auch nur ein Song." [The Gap]

"Nichts verendet in Gefühligkeit, sondern lässt im kleinen Format des Songs wahre Emotionen wachsen." [Salzburger Nachrichten]

"Eine magnetische Platte. Prachtvoller Indie, der bei uns seit Tagen auf Dauerschleife läuft." [Der Haubentaucher]

"Vielleicht der nächste große Geheimtipp am Österreichischen Pop-Firmament?" [!ticket Magazin]

///

Rey Lenon is a young artist based in Munich and Vienna. She mixes classical piano sounds with distorted synthesizers and her unique voice, leading to exciting new sounds. She had her debut on Einmusika Recordings with the internationally known DJ- and Producer-Duo BAAL, directly following with her Solo-EP "War" - which both got great reviews and showed her talent for songwriting and catchy melodies. Since the beginning of 2019 she is officially with Seayou Records and already released her first single "MCKY" in October.