PACHECO B-DAY PARTY ????? 20 Years
25.11.2022

20:00

/

Event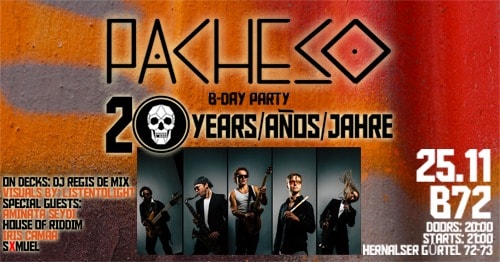 Feier mit uns 20 Jahre Euphorie, Wahnsinn und Leidenschaft! ????
Als wir im November 2002 zum ersten mal als PACHECO im B72 mit vier Songs auf die Bühne gingen um einen ganzen Abend zu bespielen wusste noch niemand wo die Reise hingehen würde. ????
Viele Kilometer und unzählige Konzerte später ist es Zeit mal Danke zu sagen und die Korken knallen zu lassen an dem Ort wo alles begann!
Celebrate with us 20 years of madness, euphoria and passion! ????
When we first went on stage in November of 2002 at the B72 with only four songs in our pocket, no one could have guessed where this would take us. ????
Many kilometers and countless converts later it is time for us to say thank you and and throw a party with our friends at the very place where it all began! ????????????????
???? Celebra con nosotros 20 años de euforia, locura y pasión! ????
En Noviembre del año 2002 tocamos por primera vez como PACHECO en el B72 con solo cuatro canciones de repertorio. ???? Muchos kilometros y incontables conciertos despues es tiempo para decir gracias e invitarlos a nuestra fiesta de cumpleaños al mismisimo antro en donde todo empezó! ????????????????