Hofrat Hektor & Kid Pex Solikonzert
30.09.2023

19:30 / freie Spende

/

Event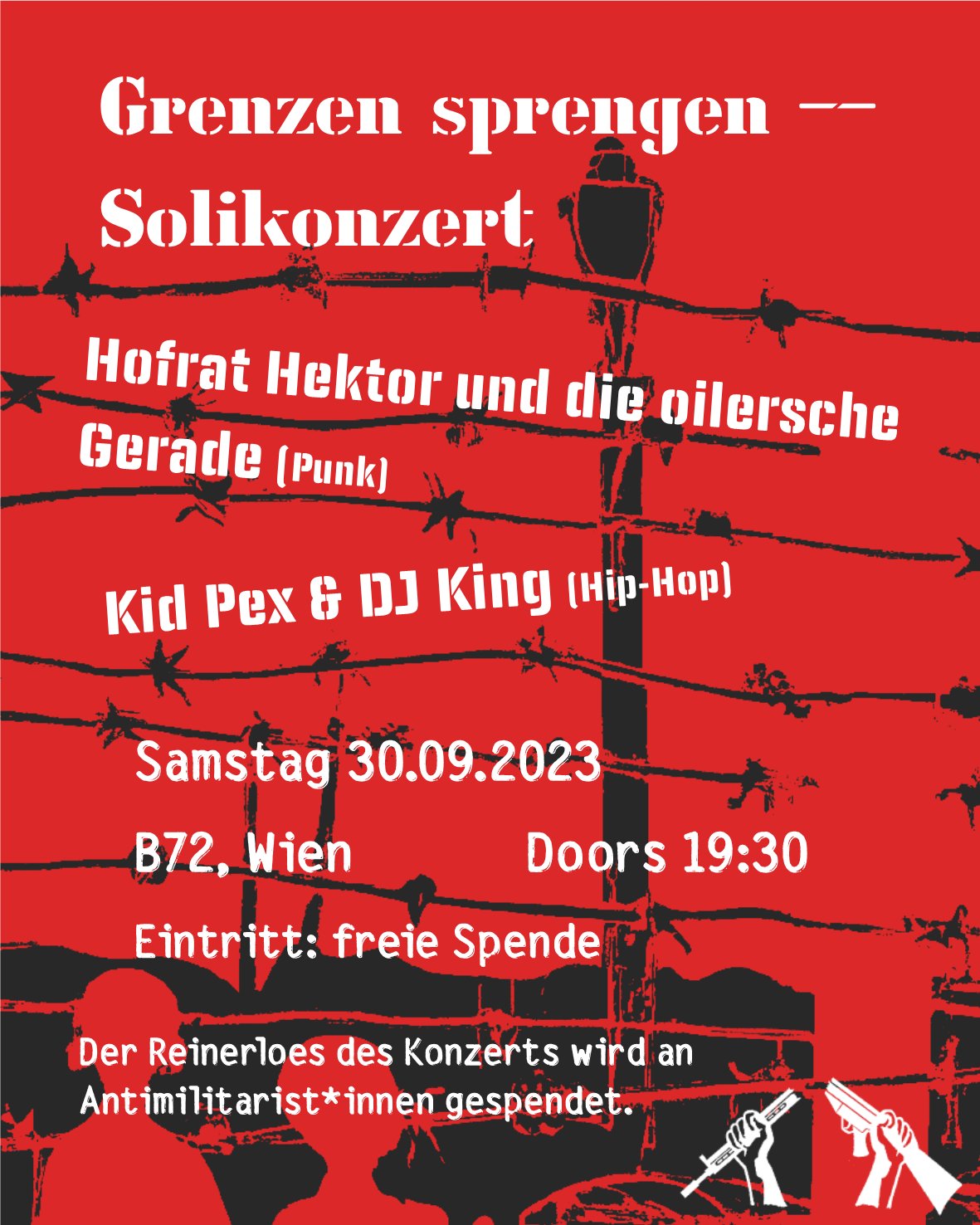 KID PEX & DJ KING
Kid Pex, bekannt geworden als Wiener Tschuschenrapper, war schon lange nicht mehr auf den Bühnen dieser Stadt. Die letzten Jahre widmete er sich vor allem seinem Herzensprojekt SOS Balkanroute. Am 30. September kehrt er zurück und spielt alte Hits, aber auch neue Nummern von seinem 2022 erschienen Album Pexit. Tschuschenrap wie er leibt und lebt, mit Support von DJ King aus dem legendären Deine Mutter Studio in Wien-Favoriten.

HOFRAT HEKTOR UND DIE OILERSCHE GERADE
Hofrat Hektor hat seinen bürokratischen Schreibtisch verlassen, um als Freibeuter durch die sieben Sümpfe unserer Gesellschaft zu gondeln. Überzeugt, erst nach den Ratten das sinkende Schiff zu verlassen, trällert er unbeirrt Lieder neuen Horizonten entgegen. Wenn seine Kapelle die Revolution intoniert, übertönt das Gestampfe für wenige Stunden den rauen Alltag. Hier trifft Beamtenpunk das anarchistische Bürgertum.
Der Reinerlös des Konzerts geht an Antimilitarist:innen. No Borders! No war! No militarisation!
KID PEX & DJ KING
Kid Pex, known as the Viennese Tschuschenrapper, has not been on the stages of this city for a long time. The last years he dedicated himself mainly to his heart project SOS Balkanroute. On September 30, he returns and plays old hits, but also new numbers from his 2022 album Pexit. Tschuschenrap as he lives and breathes, with support from DJ King from the legendary Deine Mutter Studio in Vienna-Favoriten.
HOFRAT HEKTOR AND THE OILERSCHE GERADE
Hofrat Hektor has left his bureaucratic desk to gondola as a buccaneer through the seven swamps of our society. Convinced to leave the sinking ship only after the rats, he warbles unflinchingly songs towards new horizons. When his band intones the revolution, the stomping drowns out the rough everyday life for a few hours. Here, civil servant punk meets the anarchistic bourgeoisie.
The money coming in will go to antimilitarist persons and projects. No Borders! No war! No militarisation!